Safeguarding at Bushvalley
At Bushvalley we recognise that happy children are the best learners and so we aim to provide a comfortable and safe learning environment.
At Bushvalley Primary School we provide effective safeguarding that will:
Promote the welfare for the child / young person;
Prevent harm occurring through early identification of risk and appropriate, timely intervention; and
Protect children and young people from harm when it is required.
Please click here to read our Child Protection and Safeguarding Policy
Meet the Safeguarding Team at Bushvalley
Designated Teacher: Mrs Louise Creelman Contact: lcreelman329@c2kni.net
Deputy Designated Teacher: Mrs Emma Bartlett Contact: ebartlett746@c2kni.net
Member of Safeguarding Team: Mrs Caroline Irwin (Principal) Contact: cirwin882@c2kni.net
Designated Governor for child protection: Mr Richard Lynas Contact richardlynas387@btinternet.com
Chairperson of the Board of Governors: Rev Kenneth Crowe Contact: kennethcrowe@hotmail.co.uk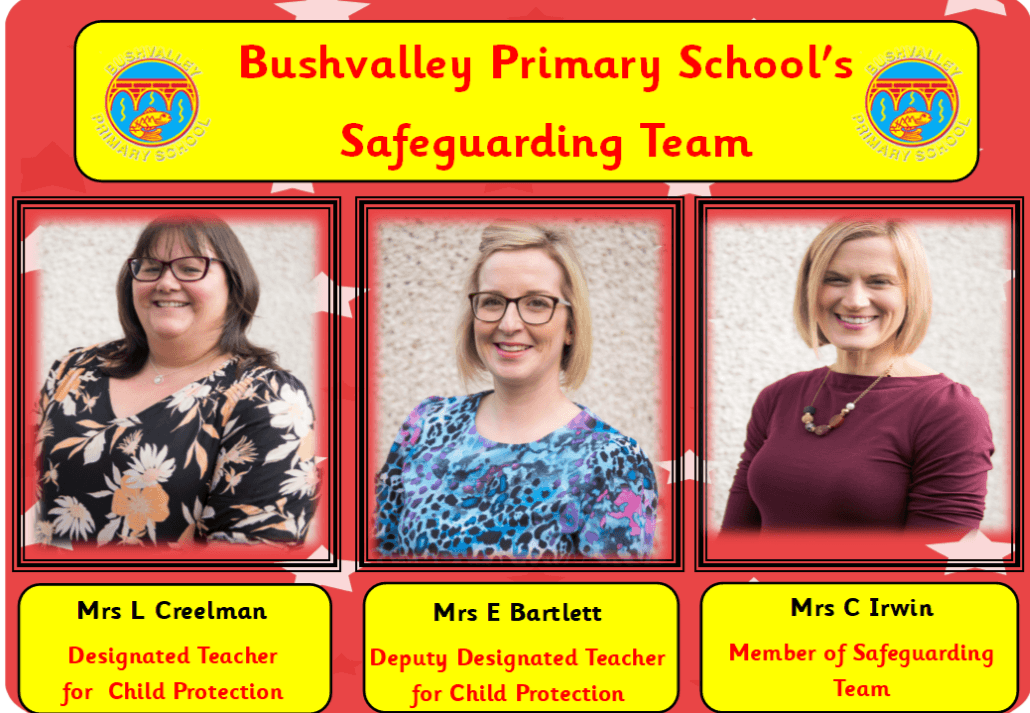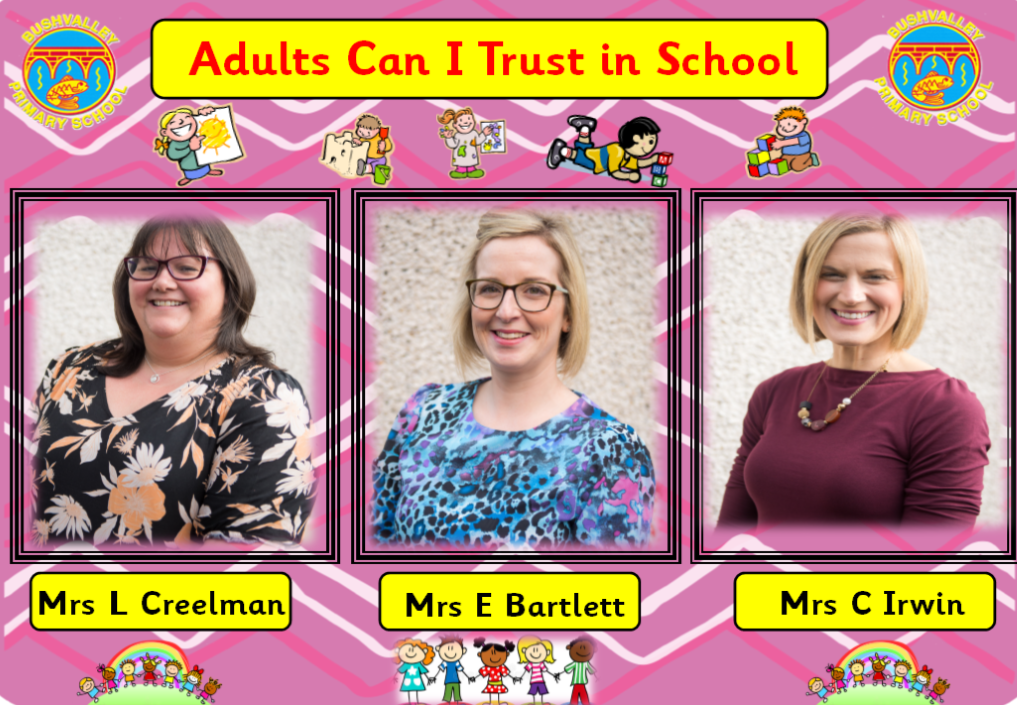 Bushvalley Primary School Safeguarding Documents
Please note a Safeguarding Pack is available upon request from the School Office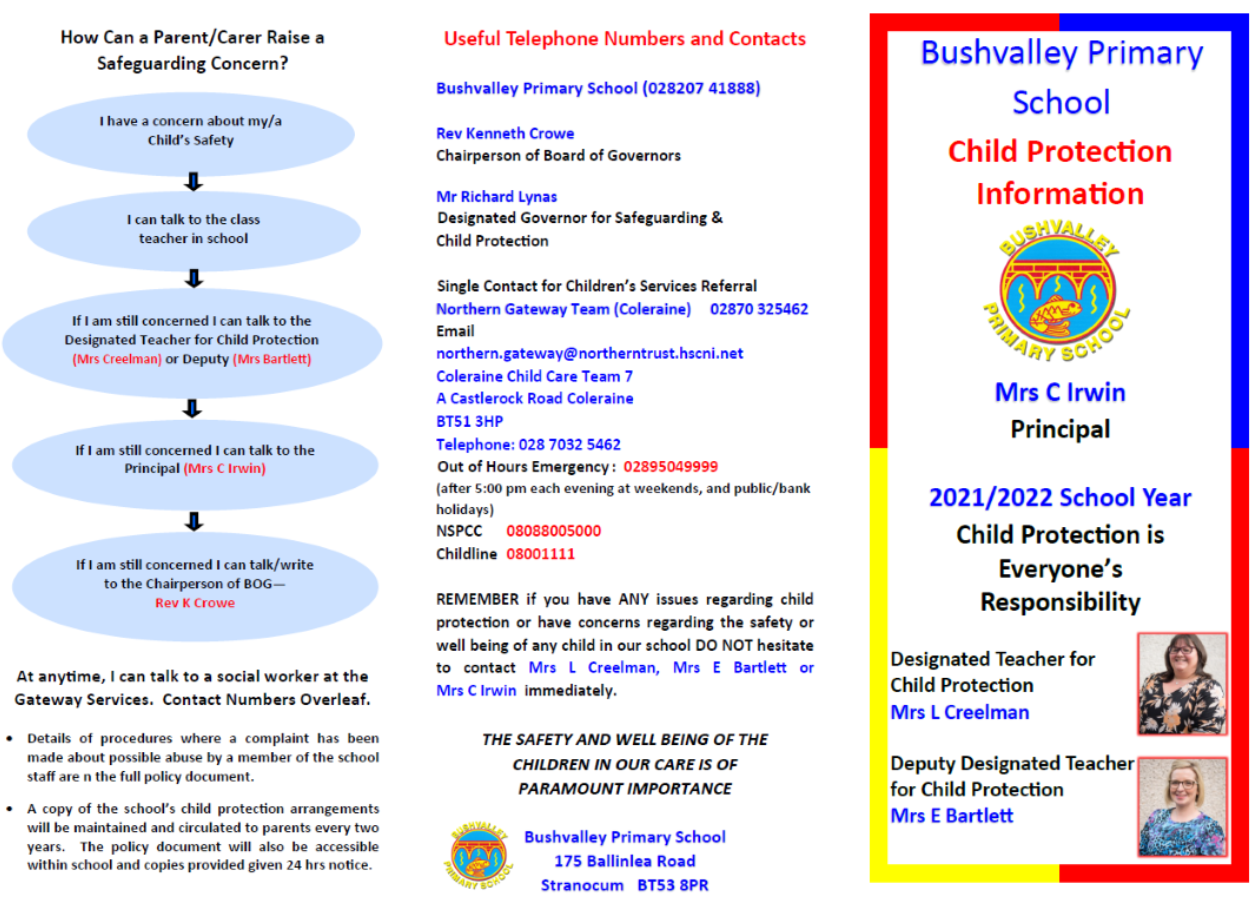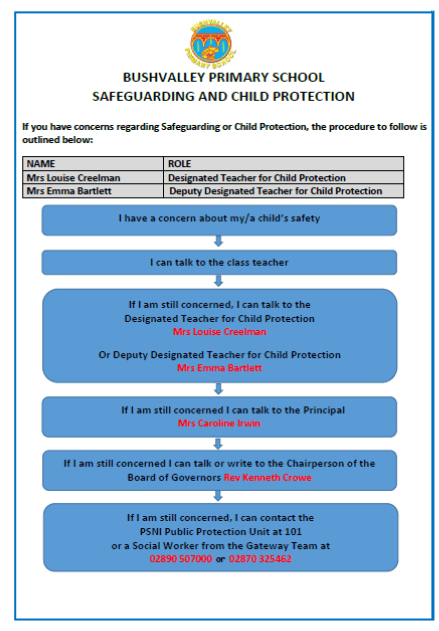 Child Protection & Safeguarding School Leaflet Child Protection & Safeguarding Flowchart
Policy Documents
Child Protection & Safeguarding Policy 2021 2022
Covid-19 Annex to Safeguarding Policy
Safer Internet Day
Tuesday 8th February 2022 was Safer Internet Day.
In school the children took part in lots of activities to help them learn about how to stay safe whilst online.
Take a look at Primary 7's Assembly on Safer Internet Day to learn a few top tips.