Ditch the Stabilisers Day
On Friday 1at April children from P1-P3 enjoyed a Ditch the Stabilisers Day with Johnny McCrystal, our school Sustrans Officer. Well Done to everyone involved.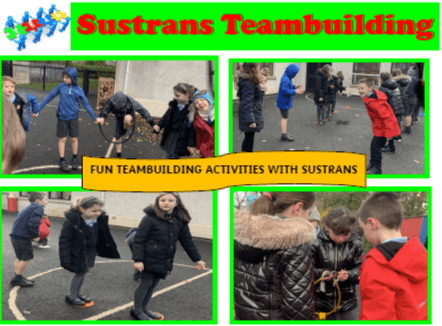 Sustrans Active Travel
Bushvalley Primary School is delighted to be part of the Sustrans Active School Travel Programme. As a school, we see many positive benefits of increasing the number of children cycling, walking or scooting to and from school. Active school travel improves health through physical activity, promotes independence, improves safety awareness, and is good for the environment.
As more children walk, scoot or cycle to school, there will also be fewer cars around the school, making our school a safer place for everyone.
The Active School Travel programme is a 3-year initiative that is being funded by the Department for Regional Development Travelwise NI and the Public Health Agency and will work with schools across Northern Ireland. In the first year, we worked very closely with Johnny McCrystal, our Sustrans Schools Officer, who helped us organise a programme of activities and events to promote active school travel in the following ways:
*By making sure the school has the facilities needed by pupils who want to cycle or scoot to school, including bike and scooter parking;
*By working with the school to provide cycle training for P6 pupils to help them ride safely and feel more confident on their bikes;
*By organising promotional activities and events to encourage pupils to cycle, scoot and walk to school; and
*By working with parents and carers so that they can help support the programme.
Some of our Sustrans events are detailed below and news will be coming very soon about our programme for the academic year 2021 / 2022
Our Active Travel Events 2021/2022

Ditch the Stabilisers Day
On Friday 1st April 2022, children from P1-P4 had a great day learning how to ditch their stabilisers - Well Done to all involved!
Active Travel Teambuilding
On Thursday 25th November Primary 5 and Primary 7 enjoyed lots of outdoor teambuilding games and activities with Johnny McCrystal, our Sustrans Officer - Great fun was had by all.
Santa Daily Mile
On Friday 3rd December 2022 all classes took part in the Santa Daily Mile. The children had great fun - Well Done!
Previous Active Travel Events
Bling your Bike Day:
Our first big event was a special cycle/scoot to school day on Friday 5th October 2019. The theme of the day was Bling Your Bike. This was to raise awareness of safe, active travel to school by encouraging the children to cycle or scoot to school and to make their bike/scooter look as bright and shiny as possible. We had some very creative bikes and scoters and the children really enjoyed bringing their bikes to school. Well Done to all involved.
Road Safety Lessons for Primary 6: November 2018
On Wednesday 5th December Johnny McCrystal from Sustrans came into school to present cycling certificates to Primary 6.
Congratulations to the Primary 6 children who achieved their Level 1 and Level 2 Cycling Award.
Active Travel Superheroes:
We were delighted to present our 46 Active Travel Superheroes with their certifctaes in assembly on Wednesday 2nd April. Well Done to everyone who completed an active travel journey. We had a total of 715 Journeys as a school - Fantastic!
Primary 6 Road Safety Lessons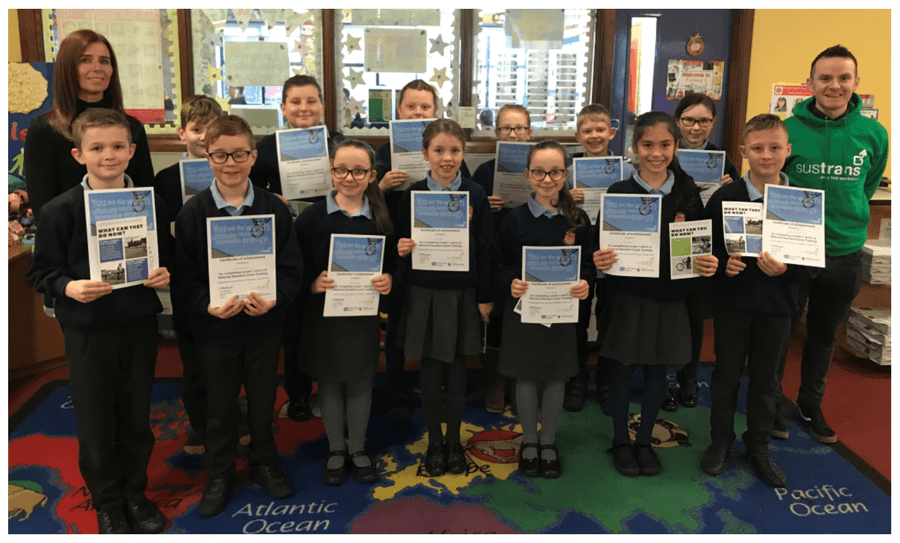 Bushvalley Active Travel Superheroes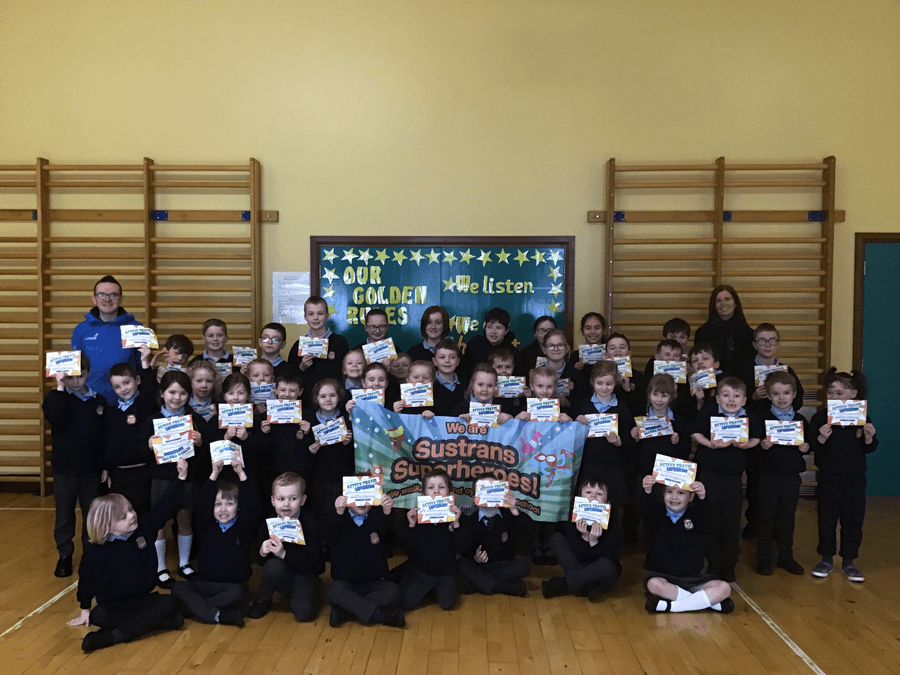 Sustrans Bronze Mark Award
Presented on Tuesday 21st January 2020