WELCOME TO BUSHVALLEY PRIMARY SCHOOL
Welcome to our website, which has been designed to provide you with relevant information about our school. Whether you are the parent of a child who already attends our school and you are here searching for a letter or details of an event, or a prospective parent looking at different schools for your child, we hope you will find everything you need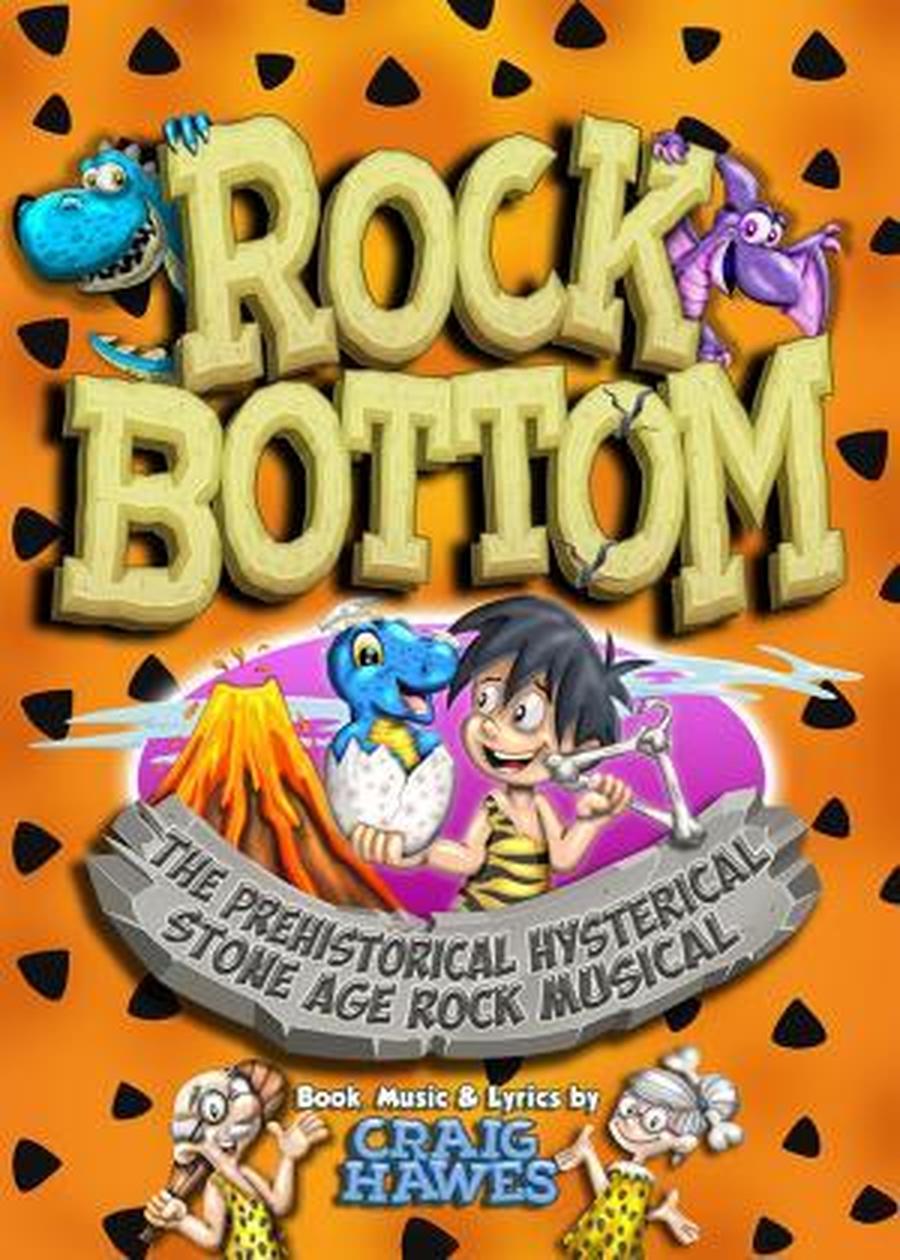 ROCK BOTTOM HITS BUSHVALLEY
KEY STAGE 2 PRODUCTION
Bushvalley Primary School preformed the fantastic musical production of 'Rock Bottom' on Monday 18th March at Roseyards Church Hall. This was a superb performance and all the children preformed to such a high standard - Well Done! Have a look at the children in action below.
Fire Safety Talk for Primary 5
On Wednesday 20th March Primary 5 enjoyed a visit from the Fire Service and learnt about the importance of fire safety. Thank you to our Fire Officers, Joe and Gary for taking the time to talk to the children!
WORLD BOOK DAY 2019
Primary 5/6 enjoyed getting dressed up for World Book Day on Thursday 4th March. Check out our favourite book characters below!
NEW PLAYGROUND EQUIPMENT
The PTA presented our new playground equipment in assembly on Friday 1st March. We just love our new equipment! Thank you PTA!
This year Mrs Creelman registered our school for Maths Week Ireland. The event ran within classes from Monday 15th October to Friday 19th October. Mrs Creelman distributed Numeracy and Mathematics resources to engage children in paired and group activities helping them to develop thinking skills and problem solving skills together. Have a look at some of the activities and games the children completed.
Mrs Irwin is delighted to inform you that we now have eight iPads up and working at Bushvalley!
Three iPads were bought through money raised by the School Council: Halloween Fun Day, Break the Rules Day and Easter Fun Day. The PTA then donated money for a further three iPads and a very generous donation allowed us to make it up to a total of eight iPads.
Thank you once again, Mrs Irwin is a very happy ICT Co-ordinator!
ANTI-BULLYING AMBASSADOR TEAM 2018/19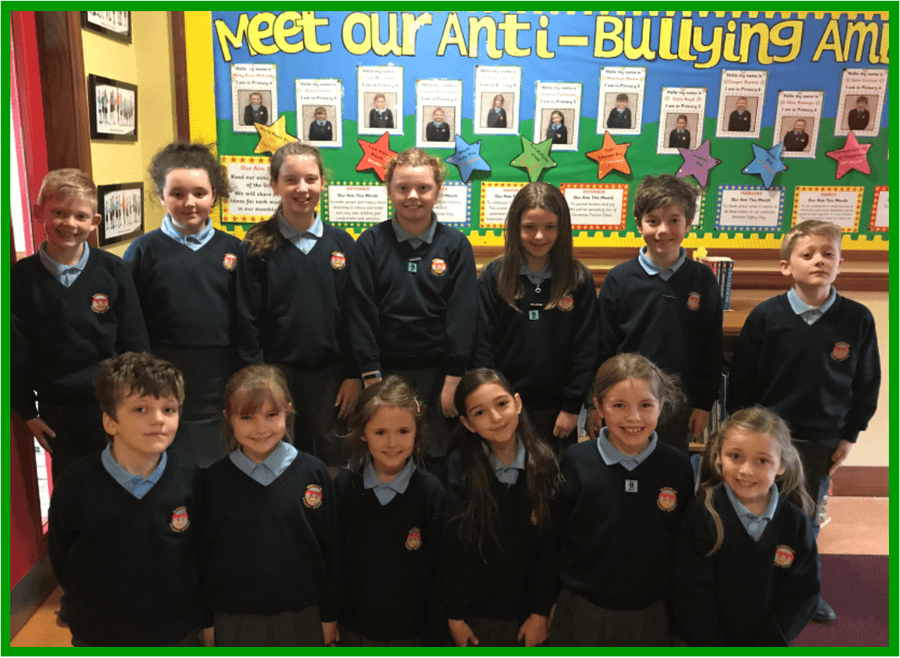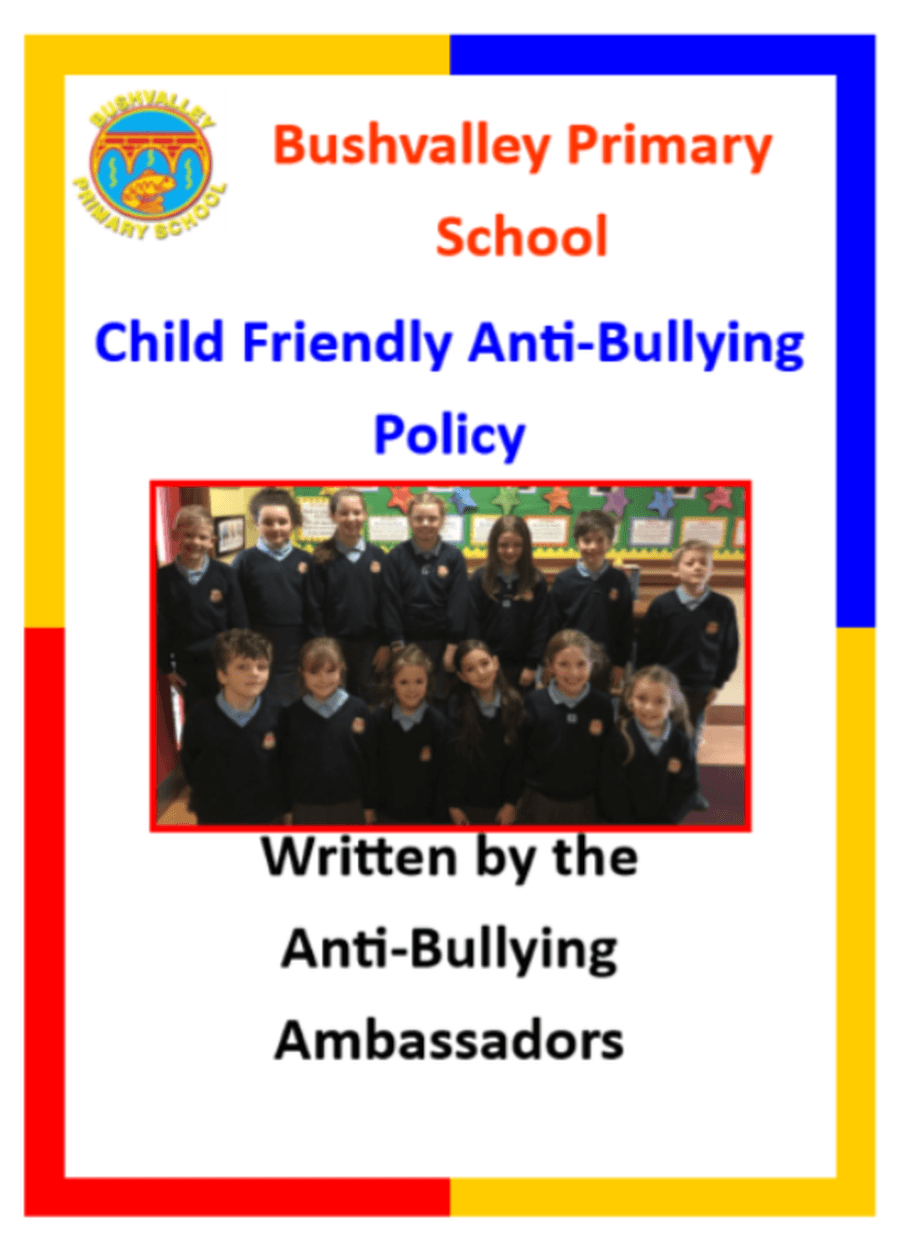 DIGITAL LEADERS AT BUSHVALLEY
Keep up to date with our Digital leaders on our ICT page.
BUSHVALLEY SCHOOL COUNCIL 2018/19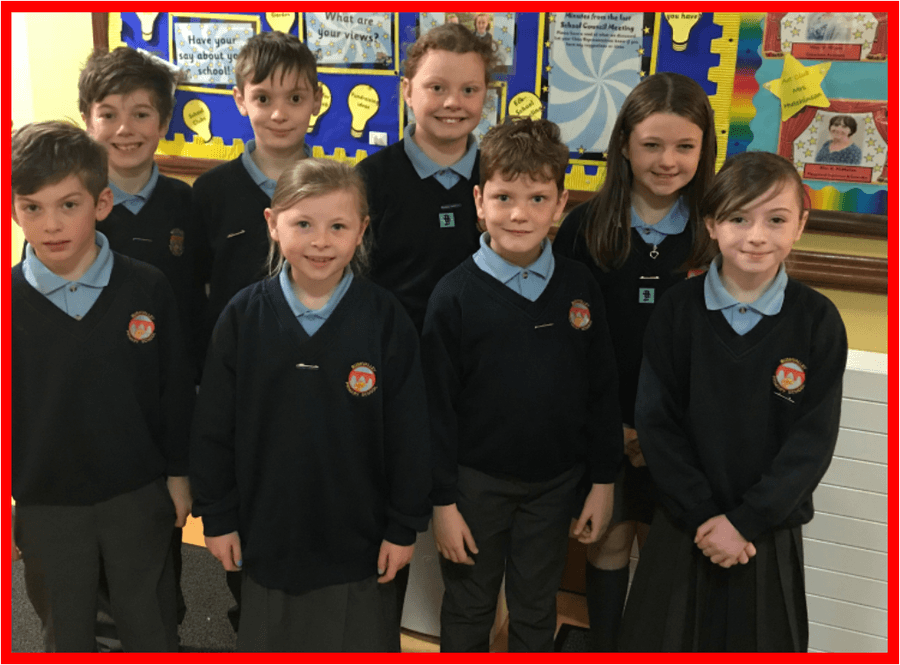 Find out more about the School Council from the scroll down menu.
LEARNING IS FUN AT BUSHVALLEY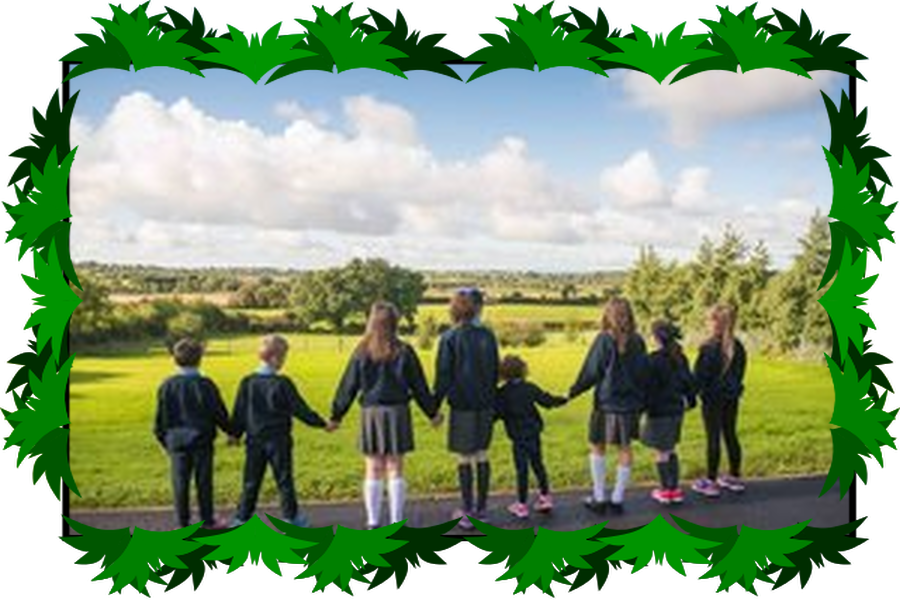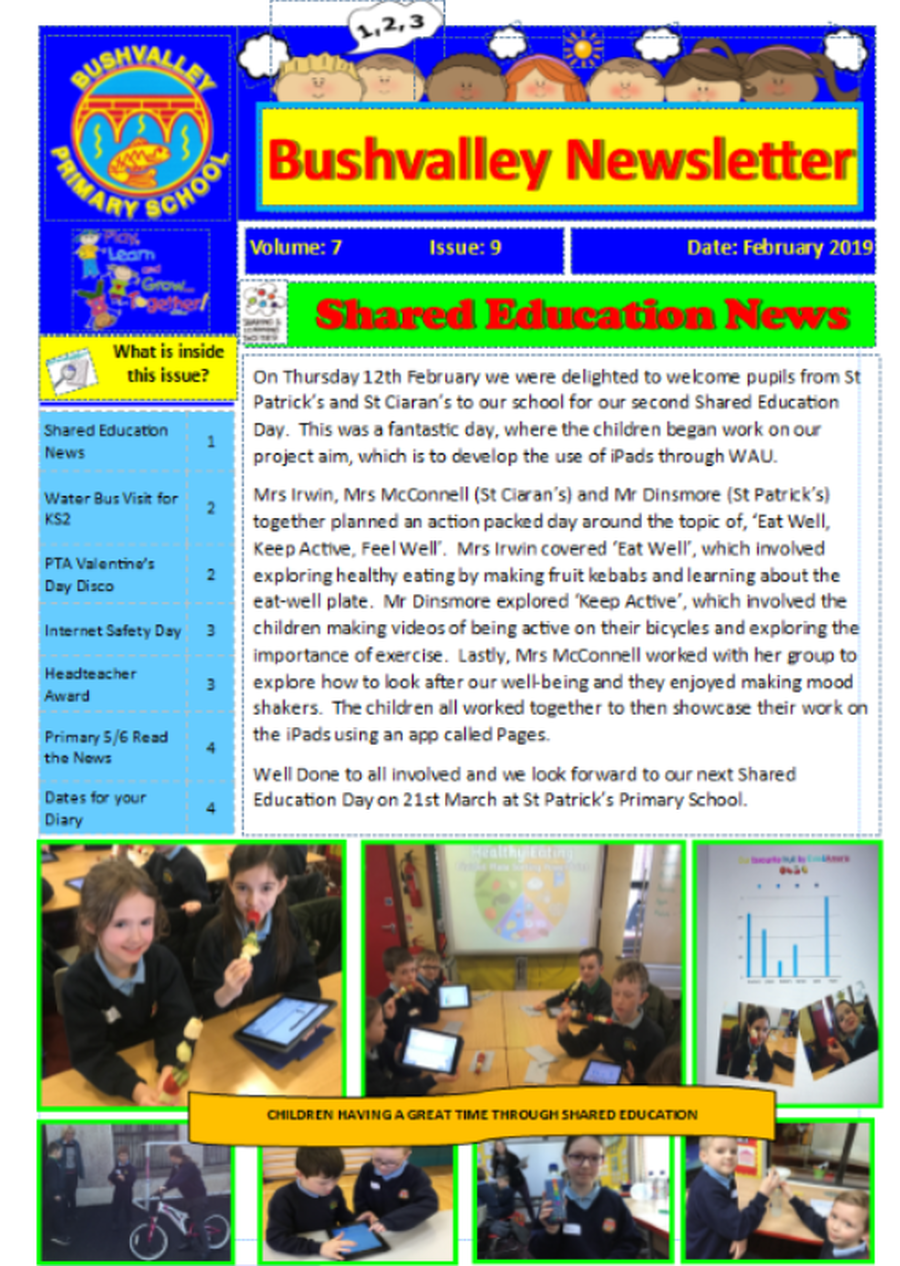 UPCOMING DATES
Thursday 21st March: Primary 5 Shared Education (Day 3) at St Patrick's Primary School Wednesday 3rd April - Friday 5th April: Primary 7 Residential School Trip Wednesday 10th April: Primary 5 Shared Education (Day 4) at Bushvalley Primary Friday 12th April: School finishes 12noon for Easter Holidays Monday 29th April: Term 3 Commences Thursday 2nd May: School Closed - Polling Station Monday 6th May: School Closed - Bank Holiday
RECENT TOP STORIES
Have a look at our new Shared Education Page!
Shared Education Day 2 - See Shared Education Page
New Playground Equipment from PTA - See PTA Page
Superhero Active Travel - See Sustrans Page
Meet the Safeguarding Team at Bushvalley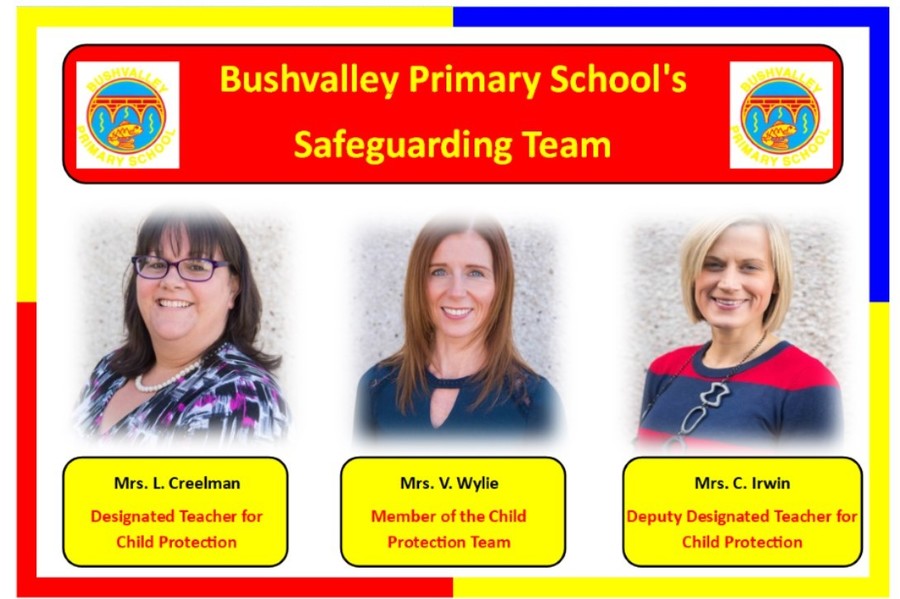 Shared Education at Bushvalley
Listen to our Musicians on the Viola and Violin
Bushvalley Win the Lottery!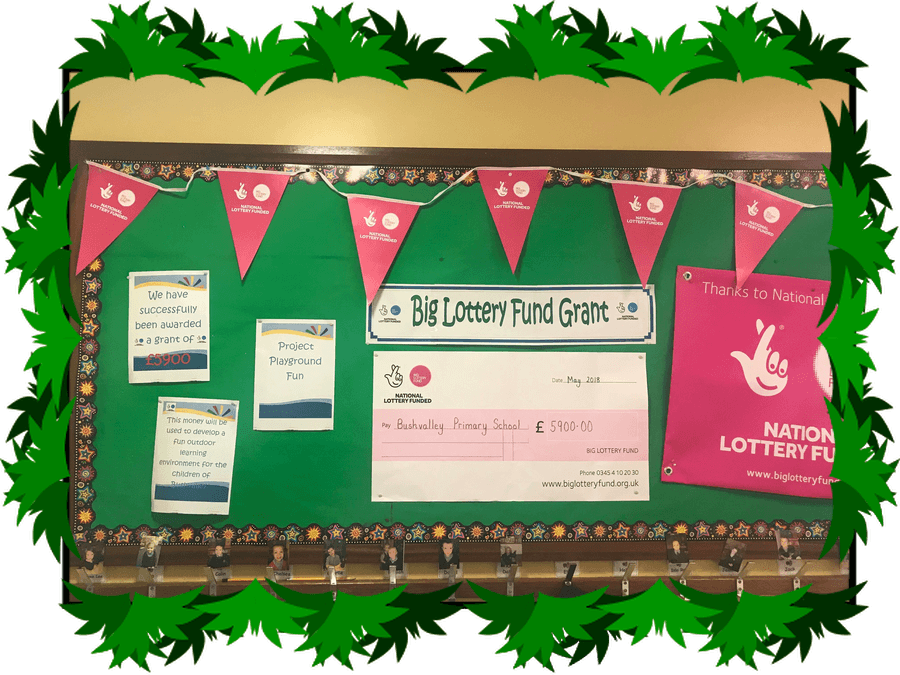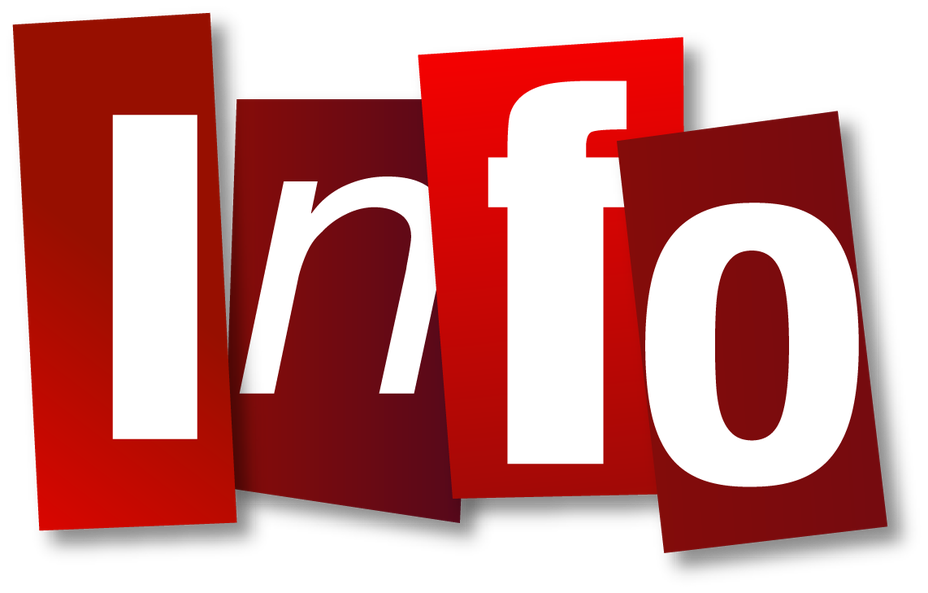 Websites of the month aimed at developing key learning areas within numeracy is now available. Click here to view links
Spelling Support materials to support your child are available for download now.
Bush Buddies
After-School Care Club
2-6pm Monday to Friday

£2.50 per hour
Should you wish your child to stay at the club, please complete a booking form and send into school in advance.
Forms are available to print from the 'Parents Letters' section of the website or from Mrs Bartlett or Miss Wilson on request.