Welcome Message
Welcome to Bushvalley Primary School website, which has been designed to provide you with relevant information about our school. Whether you are the parent of a child who already attends our school and you are here searching for a letter or details of an event, or a prospective parent looking at different schools for your child, we hope you will find everything you need.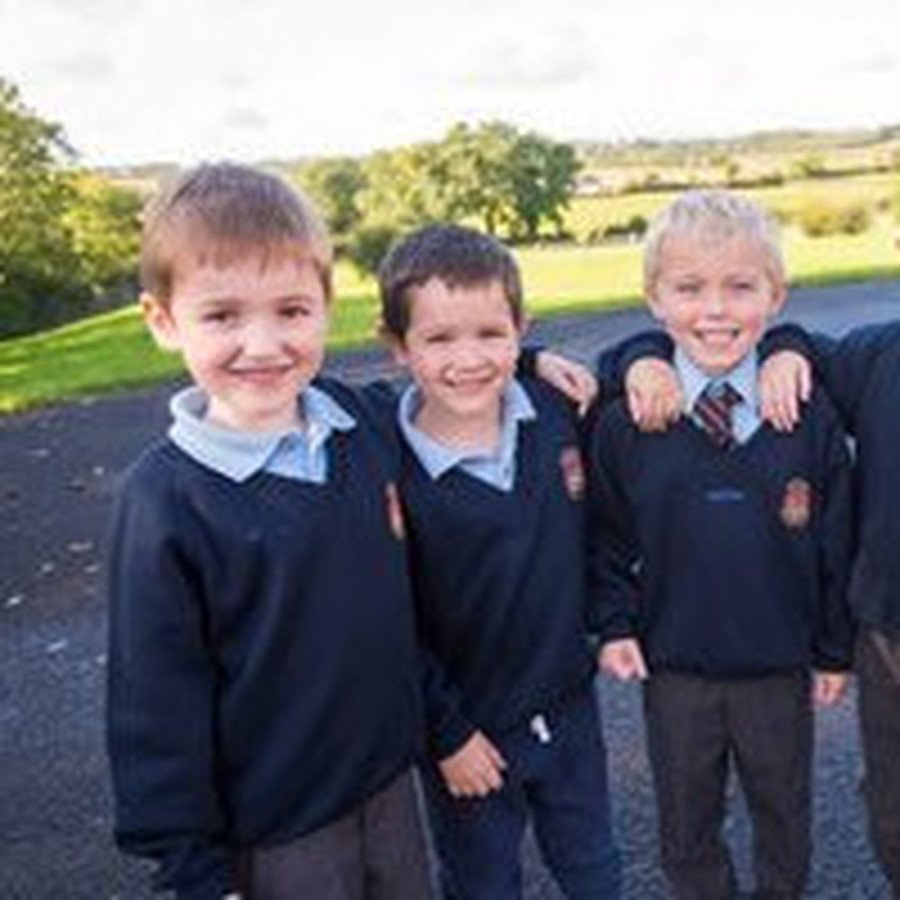 December 2019 Important Dates
Wednesday 4th December: School Open Evening for new Primary 1 Parents - See Flyer
Thursday 5th December: Dairy Council Talk for Primary 5 & P6
Friday 6th December: Primary 7 Taster Day at Ballymoney High School
Friday 6th December: Stranocum Lights Switch on at 6:45pm
Monday 9th December: Flu Vaccinations in school from 8:30am
Monday 9th December: Library Van in school. Last visit before Christmas
Tuesday 10th December: See-Saw Playgroup visit school to see P1 & P2 Nativity Play
Wednesday 11th December: Christmas Productions - Tickets now on sale
Thursday 12th December: School Closed for Election. Note: Bush Buddies is not available
Friday 13th December: Christmas Jumper Day. Bring £1 for Save the Children
Mrs C Irwin
Principal
Bushvalley Primary School Open Evening: Wednesday 4th December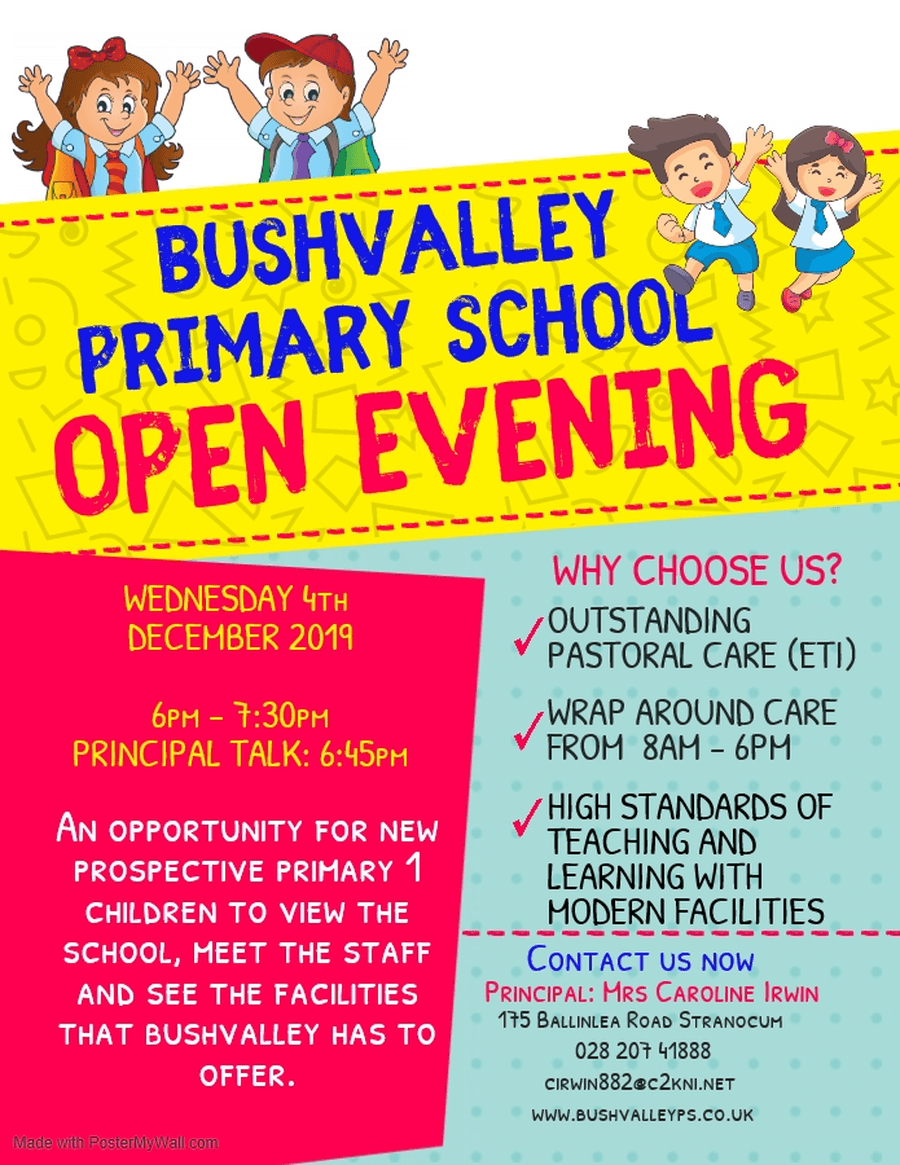 Latest News
Headteacher Award Presented on Tuesday 26th November to: P1: Archie Stevenson P2: Caleb Morrison P3: Rebecca McCaw P4: Joe McFadden P5/6: Hayley McCooke P6/& Lucy Jamison

Primary 5/6 entered a 'Young Writers' competition and a large number of the children's work has been recommended for publishing in a special edition poetry book.

Please click on the above link to view our November Newsletter. Read our news about Anti-Bullying Week and the success of our P5/6 as Young Writers.

To end Anti-Bullying Week we had 'Friendship Friday' for Children in Need on Friday 15th November. We had a non-school uniform day and sold cupcakes and juice at break time.

Headteacher Award Presented on Tuesday 12th November to P1: Colton McAfee P2: Anna McDowell P3: Ellie McVicker P4: Fiji Rankin P5/6: Mark Inglis P6/& Mary-Kate McConaghy

Bushvalley Open Evening Wednesday 4th December from 6pm - 7:30pm Welcome from the Principal at 6:45pm Please click on the link above to download our school leaflet with more information

On Wednesday 13th November we all wore Odd Socks to school for Anti-Bullying week. This showed us all how we are unique and different. Picture Above: Anti-Bullying Ambassadors showing off their Odd Socks

Please click on the link above to view the October Newsletter. Lots of news about our Half-Term Fun Day, Maths Week Ireland and our Big Breakfast success.
Further Articles »
Bushvalley Music Tuition
Bushvalley Primary Schools offers a wide range of music tuition including; piano, guitar, drums, brass instruments and wind instruments. If you are interested in your child learning an instrument please speak to Mrs Irwin.