INFORMATION AND COMMUNICATION TECHNOLOGY (ICT)
"We aim for the children at Bushvalley Primary School to have the skills to meet the needs of a rapidily changing world" (Bushvalley ICT School Vision)
At Bushvalley the children have access to a range of ICT resources, as each classroom is equipped with an Interactive Whiteboard, Desktop Computers, Laptop and a Digital Camera. We have a computer suite, which has additional laptops for each class to use along with a range of ICT resources such as,Bee-Bots, Pro-Bots and Roamers.


Internet Safety
The Internet has vastly changed how children view the world. It can be accessed almost everywhere. At Bushvalley we support the use of the Internet to enrich children's lives but it is also vital that children are aware of how to use it appropriately and safely.
If you have concerns about your child's use of the internet please contact the Mrs Wylie (Principal) or Mrs Irwin (ICT co-ordinator)
You can also visit CEOP (Child Exploitation and Online Protection Centre) for more information. Click here to visit the CEOP Page
Safer Internet Day 2019
Tuesday 5th February marked Internet Safety Day. Mrs Irwin planned a range of fun activities for children to develop their understanding of a safe responsible and positive use of the internet.
Primary 4 - Primary 7 enjoyed a video gaming morning on Monday 4th February. This was a very successful event, which was followed by an Interent Safety.
Primary 5/6 delivered an important Internet safety assembly on the Tuesday and demonstrated the important SMART Rules for using the interent safety.
Click here for more information about Safer Internet Day
Click Below to hear the CBBC One Direction Internet Safety Song, which we have preformed in assembly.
Also see Links for Digiduck and Smartie the Penguin
Please click below to see new ICT Policies
ICT and Health and Safety Policy
Acceptable use of the Internet Policy
Internet Safety Guidance for Parents
Code of Conduct for Parents and Pupils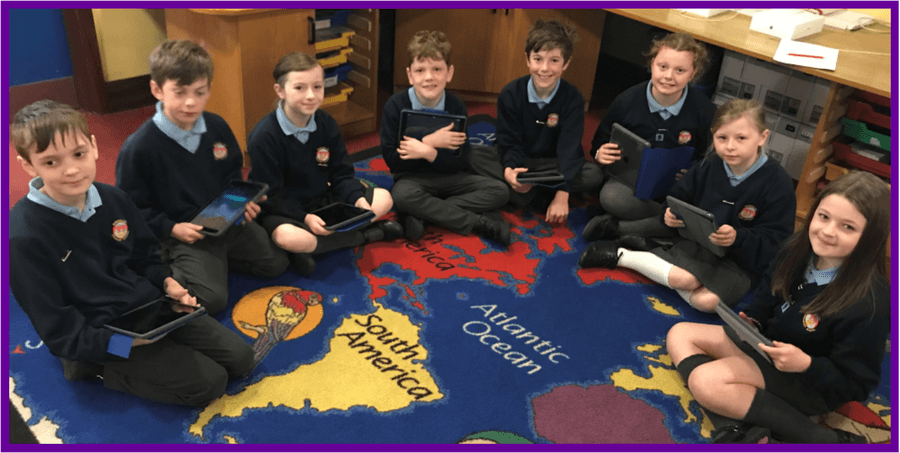 We have 8 iPads in school/ This is thanks to the Fundrasing efforts of the School Council and PTA
Our Digital Leaders are Noah McMullan (P6), Jazmin Lamont (P6), Summer Lamont (P6), Jayden Lamont (P6), Kacey McBride (P7), Marley Foster (P7) and Kara Wasson (P7).
Video Gaming night for Safer Internet Day 2018 - What a great night!